I attended a forum in which first the AG candidates and then the SOTS candidates responded to 6 questions, then gave a closing statement. It wasn't exactly a debate, but they did go head-to-head on a variety of key issues. In the end, however, I thought the debates boiled down to one issue - relevant experience.
Attorney General
The AG contest included
Susan Bysiewicz
and
George Jepsen.
That's Susan at a different event.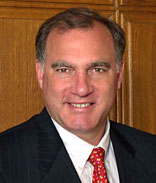 George Jepsen
Cam Staples
did not attend.
Cam Staples
This was the closest contest on the experience issue. It was clear that George had far more experience as a practicing attorney, while Susan has far more experience running a major state agency. Which is more important (legal qualification issues aside)?
I'm a George Jepsen fan for other reasons, but I'll rate this debate a tie.
Secretary of the State
The candidates:
Andrew Garfunkel,
Denise Merrill,
Jonathan Harris,
and
Gerald Garcia.
In this debate, as the former Mayor of West Hartford, Jonathan Harris was the clear winner on the relevant experience issue. He has managed a large bureaucracy, apparently quite successfully. Denise Merrill was clearly second. The other two were non-contenders.